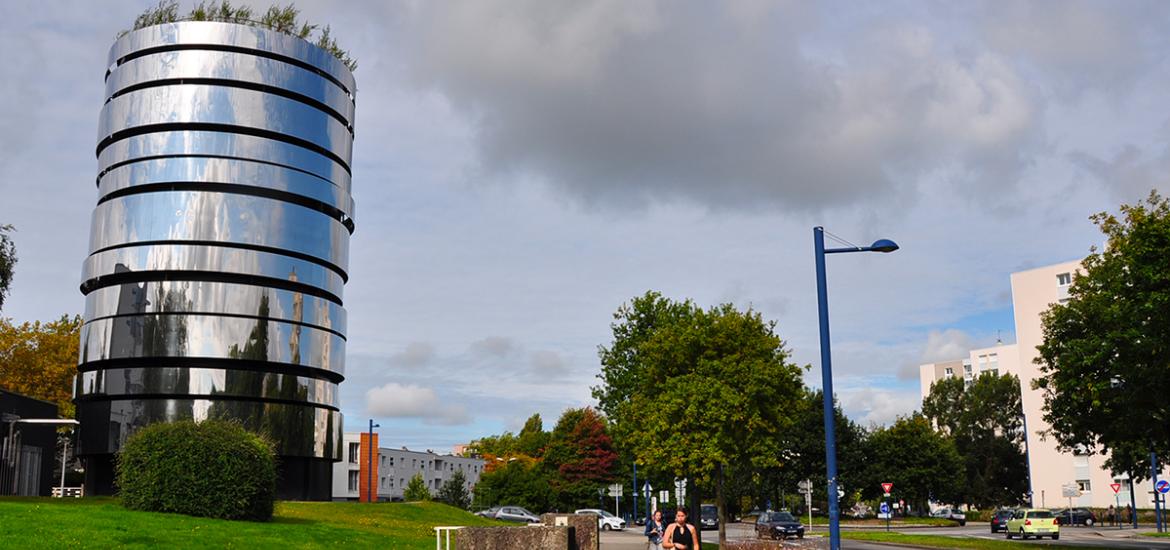 Because it trains the citizens of tomorrow, the university has a specific role to play in sustainable development and social responsibility. For many years, the UBO has been committed to a proactive and cross-disciplinary approach to build a responsible and supportive society.
A long-standing commitment
ENVIRONMENTAL PROTECTION
The university, with support from all actors involved, strives every day to adopt a sustainable and rational approach, to encourage more eco-friendly behaviours, and in turn to reduce its ecological footprint.
 
LOCAL SDSR COMMITTEES (comité DDRS)
To encourage the emergence of new ideas, share good practices and improve the circulation of information, each UBO department/unit was invited, in September 2022, to set up a local sustainable development and social responsibility committee (SDSR).
These committees will play a central role in the institution's SDSR process by centralizing and prioritizing suggestions from staff and students.
SOCIAL RESPONSIBILITY
The UBO strives to improve well-being (working and study conditions) for everybody.
 
The University of Western Brittany (UBO) is committed to supporting students and staff with disabilities.
In 2017, it implemented a disability long-term action programme (schéma directeur pluriannuel du Handicap)
The Human Resources Department (ressources humaines) includes a disability and inclusion office that provides support for members of staff with disabilities.
The Handiversité advisors provide specific support for students with disabilities. They work alongside teaching and administrative staff to ensure accessibility and specific arrangements for courses, student life, and examinations/competitive exams.
UBO is committed to providing support for people with autism and, more broadly, all students with special needs. It is a member of Aspie-Friendly, the national inclusion programme for people with autism at University.
To improve the quality of life and work for its staff and students, UBO has put in place several measures to ensure that everyone benefits from an optimal environment. These include:
an action plan drawn up by the Quality of Life at Work working group (QVT),
measures to help balance work and family life: remote working, parenthood charter, limiting out of hour emails, holding meetings only at certain hours, etc.
There university's gender equality mandate has been in place since 2012. It oversees the implementation of the Charter for Gender Equality in Higher Education (Charte pour l'égalité femmes-hommes dans l'Enseignement Supérieur) signed in January 2013 by the presidents of the CPU (former conference of university presidents, now France University), presidents of grandes écoles and engineering schools, and by the Ministers for Women's Rights, Culture and Communication, and Higher Education and Research. It works in particular towards:
parity in representative bodies
career equality
parity in training courses
In accordance with the agreement (of 30 November 2018) on professional equality between women and men in the civil service, UBO has drawn up an action plan aiming to reduce the inequalities that exist between women and men in the university. In particular, it clarifies the situation (as at the first quarter of 2021) based on analyses and actions that have already been carried out.
UBO adopts a university master plan
Next step in the process : adoption in 2018 of a sustainable development and social responsibility master plan (SDRS in English, DDRS in French). The result of a co-construction process involving staff and student volunteers, this multi-year strategic plan affirms the UBO's ambition to integrate its SDRS policy into its overall functioning so that it becomes a reflex in decisions that are made by all of the university's stakeholders, students, staff and partners alike. 
It structures the action with regard to five issues: Governance and Territorial Cohesion, Teaching, Education and Training, Research and Innovation, Environmental Management, and Social Policy.
Although the health crisis disrupted the timing of some of these projects, many are already underway. Other actions have been initiated or are planned for the longer term.
Significant achievements include: 
LEMAR and CREAD, two of the UBO's research laboratories, are involved in the Labos 1point5 experiment. This interdisciplinary group of members from the academic world has set the objective of gaining a better understanding and reducing the impact of scientific research activities on the environment, in particular on the climate. (Line of research: Research and Innovation)
Various actions to promote scientific, technical and industrial culture (CSTI) to develop science and society interactions, for example, the InVivo virtual exhibition for a behind-the-scenes look at UBO research, and the science festival (fête de la science). (Line of research: Research and Innovation)
UBO introduced the use of recycled paper at the end of 2021 and is aiming for a minimum threshold of 80%. (Line of research: Environmental Management)
UBO, GREENER IS BETTER!
This proactive policy is based on foundations for actions initiated by the university, and also on individual or collective initiatives carried out by staff, students, services, departments and faculties, associations, etc. Follow the sustainable development and social responsibility activities on the university's blog UBO, Greener is Better! (L'UBO, en vert c'est mieux!).
SDRS-related education, teaching and research
Conscious that it has an important role to play, UBO is committed to putting to good use all that its scientific potential and wealth of disciplines has to offer:
RESEARCH PROJECTS
COOL FOOD Pro
European project to assist the private and public catering sector with sustainable changes in their practices in England and France. University of Western Brittany (UBO) is the main project leader. It manages the administrative, financial and research aspects of the project through the participation of LEGO laboratory.
UNIVERSITY CHAIRS
These chairs have been shortlisted as part of a call for projects by the Fondation UBO.
PARTICIPATORY SCIENCES
CoastAppli
Application developed by ISblue and LETG researchers to raise awareness and engage the general public on the issue of coastal erosion.
SensOcean
Scientists and navigators collaborating to study ocean currents and climate. This project brings together several partners: AMURE (Development of the Uses of Marine and Coastal Resources and Spaces – Centre for Law and Economics of the Sea), LOPS (Laboratory of Physical and Spatial Oceanography), UBO Open Factory and the association Astrolabe Expeditions.
AND ALSO...